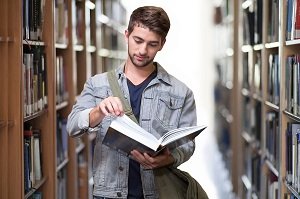 When you are a student, you may be responsible for creating your dissertation. Whether or not you write a dissertation depends on your area of study, your progress at school, and your school's requirements.
Students are not always aware of what needs to go into their dissertation. There are many things to consider as you get started with your dissertation. This might seem like a complicated process, but it doesn't have to be. With the proper guidance and research, dissertations can be manageable from start to finish.
One area that students particularly struggle with is their dissertation topic or title. Students are not always aware of what needs to go into this part of their dissertation. It may be overlooked because the actual dissertation requires extra work and attention. Students may not focus on the title and topic choices as much as the rest of the dissertation.
To make this easier, it's wise to consider the components that need to be a part of the topic that you choose. These can vary depending on the requirements set by your professors. The following list should be useful to nearly any student when you are choosing a dissertation title.
1.  Your Area of Study
Your dissertation should be directly related to your area of study at school. This is one of the main purposes of a dissertation. Dissertations will allow you to conduct deeper research and to learn more about a particular topic within your area of study.
Within the title of your dissertation, the readers should be able to figure out what your area of study is.
Your dissertation should be connected to the issue because you are working on getting a degree in that area.
2.  Your Specific Focus
You should start by choosing a topic within your area of study. Then, you need to find a focus to follow throughout your dissertation.
Your focus should show what type of stance you're taking on the topic. This article gives the example of this being your point of view about a theory or a study.
By selecting a focus, you will be able to narrow your research and your writing so that everything is clear and concise. This will help you stay on track with the correct information and leave out the unrelated content.
3.  Your Research Results
Throughout the dissertation process, you will be doing some research. You may need to conduct a study and receive results.
As a way to make your dissertation professional and more meaningful to your readers, you should add a bit about your research results to your dissertation title. This can be as simple as including an extra word about what research information you will be including.
You might add "results" or "analysis" to your title after briefly mentioning the study. This shows the readers that you have investigated the topic, which they may want to learn more about.
Writing a dissertation doesn't have to be scary. There are many online resources to help you get on the right track. Once you have selected a topic, be sure to clean it up using these three necessary components. From there, you can begin writing your masterpiece.
Note that you should check with your professor to see what kinds of requirements have been set. You will have to follow those fully to ensure that you complete this major assignment properly.