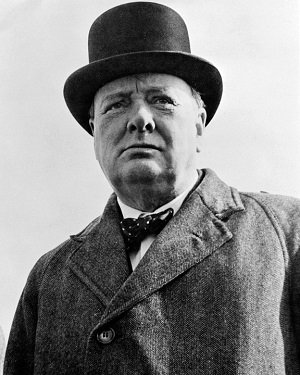 Students are being trained to become good leaders while studying at colleges. One of the ways to get leadership skills is to write a leadership case study. It is possible to get to know about the development of a particular person as a leader.
Who can be studied as a good example of a leader? Some are born with leadership qualities while there are some who have to work hard on certain traits to reach their dream of becoming a good leader.
Are you aware that Sir Winston Churchill is considered to be a flawed man? So, what has Winston Churchill made to become a powerful leader during the World War II?
By doing a case study on Winston Churchill's life, you will know more details about his path to greatness. BBC prepared the useful article about the greatest Briton from his birth in 1874 to his death in 1965.
He was determined to resolve the issue of Britain in times of wartime hardships. The country was hesitant to fight but he also served as an inspirer. People were drawn to him and his enthusiasm and determination. His decisions have changed the world history. It will make you realize how your own choices in life can change your whole life story too.
Writing a case study about Winston Churchill will not only bring out the inner leadership qualities that you naturally have. You will also have a good idea how a man born in the 19th century and died in the 20th century be relevant to the 21st century.
Amazing Leadership Qualities of Winston Churchill
There are different qualities of Winston Churchill that immediately set him apart from the rest of the leaders during his age.
Strong communication skills. He was able to communicate with people not only through his words but also through his actions. People immediately knew what he wanted. He was able to deliver magnificent speeches but he knew that he did not have to impress by using eloquent and hard-to-understand words. He used sentences and phrases that people could understand and it obviously worked in his favor.
Another evident side of Winston Churchill is his passion for everything that he did. He was passionate about giving speeches, writing, reading. When he did things, he made sure that he excelled in all of them.
Winston Churchill had a clear goal because he had a vision of what he wanted. He knew what he would like Britain to be and he made ideas and worked on those plans to the best of this abilities in order to match his vision.
How can a leader be good when he isn't courageous? The post that he handled during World War II is one of the toughest in the history of the world. He was able to bring justice to that post. The whole time that he was there, he truly showed that he was to be trusted. He was truly the leader that people needed at that time.
He also showed his positive way of thinking. This has managed to influence a lot of people to think like him during wartime. He was also able to reassure a lot of people whenever they felt uncertain about the things that were happening.
All of the amazing qualities mentioned above made Sir Winston Churchill a good leader. Do you believe that you have the same leadership qualities? There are some who are initially born with these qualities while others would have to work harder to develop these.
A leadership case study about Winston Churchill is an effective way to develop essential skills to become a leader. You are just in 2 steps away from successful writing of a given leadership case study that can bring you good marks as well.
Step #1: is to apply our custom writing service so that you will know how a case study should look like with the help of a leadership case study sample.
Step #2: is to submit your high-quality leadership case study to an educator.