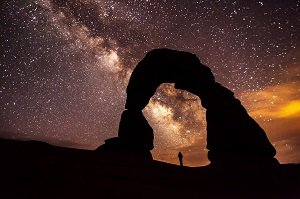 You probably know that every second the Sun emits energy that is equal to billions of nuclear bombs, and the Moon supposedly appeared as a result of the collision of the Earth with another early planet. These are facts that involuntarily spark interest, and you are aware of them because you are an Astronomy geek preparing to be (or already are) an Astronomy major.
Throughout your college studies you will certainly get assigned with a writing task within the Astronomy field. With that thought in mind, we've gathered for you 6+ TEDx videos that will be a great source of Astronomy project topics, wonderful ideas and information for the actual text. Watch them and imagine yourself already researching one of the interesting and challenging subjects from TEDx talks.
1.  Finding Planets around Other Stars
https://www.ted.com/talks/lucianne_walkowicz_finding_planets_around_other_stars
The space telescope called "Kepler Mission" looks for planets where there can be life. The telescope identifies the celestial bodies with the help of the light reflected from the star they circle around, and can determine their size and distance from the star. Interested? Go ahead and learn more about it!
2.  The Most Mysterious Star in the Universe
https://www.ted.com/talks/tabetha_boyajian_the_most_mysterious_star_in_the_universe
Have you heard about the star KIC 8462852 KIC 8462852? Well, if not, it's time you do something about it. There is a very curious story that includes alien theories, planet collisions, etc. And you are the one who can research and tell it to your professor and group mates.
3.  The Hunt for a Supermassive Black Hole
https://www.ted.com/talks/andrea_ghez_the_hunt_for_a_supermassive_black_hole/
Who is not interested in black holes? People have no idea how they look (the movies are not always right on that part), what they do and how they influence our universe. And you can be the one who will write an Astronomy project on this topic and educate your fellow students.
4.  What We Can Learn from Galaxies Far, Far Away
https://www.ted.com/talks/henry_lin_what_we_can_learn_from_galaxies_far_far_away
Some scientists presuppose that large galaxies are like miniature universes. So, if we have some questions about such global things like what the principles of the gravity's work are, we can find answers by studying those far away galaxies and discover new things about the whole universe.
5.  A 3D Atlas of the Universe
https://www.ted.com/talks/carter_emmart_demos_a_3d_atlas_of_the_universe/up-next
How did people come to understanding that the Earth is actually an exhaustive resource that changes very quickly and not to a better side? They went to space and looked at our planet from way above. The 3D Atlas of the Universe is a project that allows us to see those changes on our planet on a daily basis together with other space objects located close as well as far from the Earth.
6.  How to Land on a Comet
https://www.ted.com/talks/fred_jansen_how_to_land_on_a_comet/up-next
Have you ever thought that the comets are actually the reasons there is life on the Earth? In theory, they brought water and microorganisms to our planet when it formed in the solar system. So, would you like to land on one of them? We bet you would. Tell people about this incredible opportunity to attract their attention to this mind-blowing topic.
See how many exciting topics there are on TEDx list of talks? And this is just a short recap of what they have on Astronomy on the website. You can find literally anything for every taste and interest out there, so don't waste any time – watch the videos, choose your favorite subject and keep it prepared for the upcoming writing assignment!
P.S. If you have your own fancied topic, feel free to share it with us!