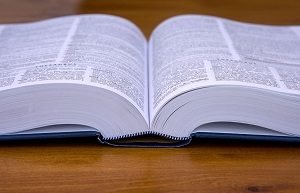 So, the Merriam Webster dictionary defines thesis as "a dissertation embodying results of original research and especially substantiating a specific view; especially:  one written by a candidate for an academic degree."
This is a short clear thesis definition that gives a general idea of what a student might need to create. With a closer look at it, you can notice the adjectives used around this word – original, substantiating, academic. While they fully characterize the nature of the paper, they hardly describe the challenge you may be faced with during completing this writing assignment. That's why we've decided to list the adjectives students use themselves to picture the thesis – they will be a more reliable source of information if you decide to learn what a thesis is like in reality.
Interesting – this word is a rare bird here. Not a lot of students are keen on calling thesis "interesting", but, those who are, probably have the topic they fancy or a cool academic advisor.
Challenging – we don't swear in our blog, that's why we use polite substitutes of some adjectives, and "challenging" is one of them (no, students use not this word). Thesis writing presupposes overcoming a lot of obstacles on your way like procrastination, laziness, etc. So, quite a challenge for you.
Demanding – you need to put a great deal of efforts to keep yourself going no matter what episode of Game of Thrones is out there or how interesting the new board game that your friends offer to play is.
Time-consuming – no, it doesn't take one night to complete a thesis, and no, not even two nights. It's a cumbersome task that you have to start well in advance.
Confusing – looking for some instructions on thesis writing, and each new website gives you different information? And when you contact your supervisor, he tells you that you can't trust the Internet, but doesn't point at what you can rely on? Been there. That's exactly what "confusing" means.
Formal – nobody is interested in your opinion. You should write a thesis following certain styles and standards without any personal add-ons. You must use the type of language nobody really speaks, and, moreover, prove a point.
Daunting – yes, thesis writing is really scary not only because it's an uncharted territory, but also because it stays this way during the whole process of writing and whichever time you do it again.
Pressing – the deadline is something that can swing your mood from highly joyful to miserable. But the funny thing is that it doesn't motivate you to get to work, it just presses you and that's all.
Depressing –  thoughts that you are not capable of doing it because you are not smart enough are common for every thesis writer. Unfortunate as it may be, this task doesn't improve anyone's self-esteem.
Impossible – this mission can seem that way for each first-timer. But don't lose hope – eventually, thesis writing becomes accomplishable in your mind, well, if you write it for the 7th time.
If you wish a real, undecorated truth about this writing assignment, these are the adjectives that show it. All students use these words while talking about thesis, and most of them don't change their minds even after the successful completion. So, be prepared for the reality of thesis writing.
P.S. Don't get too scared. We believe in you!