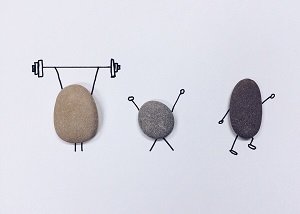 When writing a college paper, a student has one of the hardest times in his/her life. This is a quite durable period when they need to work harder, sleep less, and fight all their fears if they want to be successful writers. However, we believe that there should be some time for relaxation, too. It is a proven fact that short but very useful exercises help to:
Feel more energetic
Sleep better
Get more confident
Write more words during a day than before
Eliminate stress and depression
What are these exercises? They are short, fun, and relaxing. It won't take much time to repeat each one daily BUT each of them will make your writing period less tense.
Short 10 Min Set of Exercises for Students
Exercise 1. Write while standing. It is proved that results may be better if you are writing while sitting. And your productivity will definitely grow.
Exercise 2. Take all the books you use for your research, especially the heavies ones and do the squats with them. Feel the load and apply all your physical powers to handle them. If the books are easy to handle, the assignment will be handled as easily.
Exercise 3. Put a book beneath you and stay in a plank over it. Don't you dare to fall down! If you manage to remain in the position for a minute, you'll manage to cope with the entire research.
Exercise 4. Shake your head when someone asks you to join a party/go to the movies/hang out with friends/go to sleep instead of working on your project.
Exercise 5. Do some creative exercises for writing. This one is crucial in helping a student to improve his/her work:
 ONE
Who is coming? 2. What secret do they have? 3. What do they bring with?
TWO
Why was Jack angry with Joanna? 2. Where did Jack go after being stormed out? 3. What has happened to the man when he got in there?
THREE
Who has found a thing in the wardrobe? 2. What did they find? 3. What are they going to do?
FOUR
Who has cheated Tom? 2. What did they treat John like that? 3. Will he do a thing?
FIVE
What building did Jill leave? 2. What was on her? 3. Where did she go?
Exercise 6. Watch some funny videos online and start laughing. Laughter reduces stress, improves the immune system, releases the feel-good hormone and provides with more energy.
Exercise 7. It's not a real exercise, but it works, so it is a must for our list: change your socks for refreshment. This is a kind of a very old trick that really works. You will be shocked by how much fresher you feel. The only problem is that you will need many socks, especially on a tough day.
Exercise 8. For the next 10 minutes forget about your writing assignment. Close your eyes and imagine being in some favorite place of yours. Believe it is one of those awesome days, and it will be.
If you repeat some of them regularly, they will bring results. And that's the only thing that matters while you are writing!