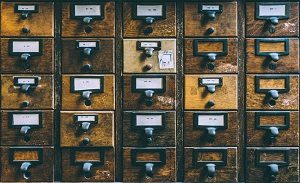 Perhaps the most important thing in your paper is your thesis statement. So, what is it exactly? Does it have to be a statement, or can it be a question? Why? These are the questions that we will answer here.
Creating a thesis is a big deal. It's not an easy task considering its importance. In order to answer if a thesis can be a question or not, we need to look at what it takes to make a good thesis.
What is a Thesis Statement?
A thesis statement is a claim you are making. It's something you want your readers to know, understand or believe after they have finished reading your essay. You will be making many claims throughout your writing, but they all are connected to the overarching thesis statement to help prove it.
Although this isn't always the case, the thesis statement often goes towards the end of your first paragraph in order to inform the reader what the rest of the essay will be about.
A thesis statement is absolutely needed in every essay, even if it takes a different form from the norm, because it is basically the point of the essay. With no point, there would be no reason for the paper, and your piece will not make much sense.
A thesis statement has to be clear, concise, precise and controversial, but at the same time defendable, positive and free of grammatical errors. That's a lot to think about!
A Thesis Statement is Called a Thesis "Statement" for a Reason
A statement has the definition of being a sentence. A thesis statement is a declarative sentence. It should also be a positive one.
One of the possible ways to start thinking about a good thesis statement is to start out with a question that you want to be answered in your paper. First of all, you have to mull over the question within the topic that you are going to write about. The answer to the question would be the first draft of your thesis statement.
So, for those of you who have ever asked yourself 'Can a thesis statement be a question?', the answer is 'No, it cannot'.
There Are Questions That Should Be Answered in Your Thesis
As it was mentioned earlier, a good way to start thinking about a paper and its thesis statement is to start with a question. Often professors will give prompts in the form of a question. You should think of your paper in the same way. What question is your thesis statement answering?
In addition, try to include some question words as  "how" and "why" within your thesis statement. This will make it stronger, and give more support to your essay overall.
So, in the end, you can see that a thesis statement should never be a question. Actually, it should answer a question instead. You don't need to state that question in your paper, but it's a way to make up a perfect statement for your piece.